Kwementyaye Briscoe's family are demanding criminal charges against police over the young man's death in the Alice Springs watch house in January. Family members led a demonstration of 100 people in early October, holding placards reading "Police must be charged".
Human rights lawyer George Newhouse has added his voice to the call for charges, saying, "I believe this extreme level of negligence is criminal". He has called on the Department of Public Prosecutions (DPP) to examine criminal charges, and is also investigating a civil claim for damages against police.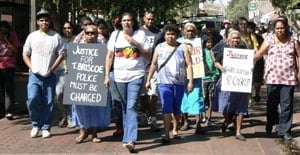 Northern Territory Coroner Greg Cavanagh's official report, released in mid-September, blames obscene police neglect for Kwementyaye's death.
The much-loved Anmatjere man died, as the coroner put it, from, "the combined effects of acute alcohol intoxication, positional asphyxia and aspiration, which ultimately obstructed the airways and led to death".
The Coroner's report clearly rests the blame on police stating that, "the care, supervision and treatment of the deceased was completely inadequate and unsatisfactory and not sufficient to meet his medical needs."
However his report goes out of its way to create excuses for the police. It turns the focus away from unacceptable police brutality onto alcohol and public drunkenness. Cavanagh concludes by announcing how impressed he is with internal procedural reforms conducted after the incident and the disciplining of ten police officers. But not one of the officers involved has been demoted or referred to the DPP.
Criminal negligence
Key details left out of the report call into question the "tragic mistake" version of events accepted by the Coroner, and show that the police actions went well beyond "neglect".
Kwementyaye already had bitter experience of police treatment, having been in "protective custody" a staggering 31 times previously. Omitted from the report are claims that police had assaulted Kwementyaye just weeks earlier. He was already nursing a cut above his eye from this incident before his arrest. Patricia Morton Thomas, Kwementyaye's aunt, testified to this, saying he likely ran from police out of fear for his safety.
Kwementyaye should never have been arrested on the night he died. The law says that a person intoxicated in a public place can only be taken into "protective custody" if there is evidence that the person is a threat to themselves or others, or that they intend to commit a crime.
There was no evidence of any of this. At the inquest Constable Evans claimed he suspected Mr Briscoe was going to damage school property. But Kwementyaye was only chased into the school by Evans.
Another issue is why Kwementyaye was never taken to hospital. Prisoners in nearby cells were consistently shouting out for him to be taken to hospital. CCTV records captured police discussing with each other Briscoe's need for medical care, but ruling out taking him to the hospital because he might run away.
Yet the footage shows he was barely able to stand up or talk, let alone run.  Kwementyaye was bleeding from the head and unconscious on the floor. It was obvious that he urgently needed medical attention. Yet the Coroner's report accepts police testimony that they didn't take him to hospital for fear he might become aggressive.
Then there is the refusal to implement recommendations following the last death in the same watch house in 2009. Following Cedric Trigger's death in a very similar manner, police told the Coroner they would ensure a "watch house keeper" was placed in charge of monitoring those in custody. But one officer, Superintendent Jones, told the coronial hearing that she had continually pushed for a senior police presence in the watch house, but was refused.
The Coroner has now made further recommendations to police—but it's hard to believe any changes to police practices will last.
Alcohol or justice
Rather than recommending charges against police, Cavanagh has called for further alcohol reform in Alice Springs. The new CLP government has seized on this focus. They are planning to criminalise public drunkenness, with three-month "mandatory rehabilitation" facilities for "habitual drunks".
These $30-40 million establishments are really just jail compounds that NT Attorney General John Elferink says are designed to "get the drunks off the streets" and encourage often homeless alcoholics to "revisit their worldview".
Family members are furious. Patricia Morton Thomas released a statement condemning, "…in the strongest terms his [the Coroner's] gutless recommendations which sought to slyly take the focus off the police conduct and evidence of systematic racism in the force and shift it to alcohol related social problems in Alice Springs."
The police and the CLP can't be allowed to get away with further punishing Aboriginal people. The officers involved must face charges. But not one officer has ever been convicted of a charge over an Aboriginal death in custody. So this won't happen without a fight.
By David Suttle
Please sign and share the petition jointly initiated by Patricia Morton-Thomas, Kwementyaye's aunt, demanding charges be laid