Echoing the dramatic land rights struggle of the 1960s and 70s, elders at the Ampilatwatja community, 300 kms north-east of Alice Springs, have walked off their community demanding an end to the Intervention and immediate action to address shocking housing conditions.
More than 150 of the 300 residents have joined the protest, 3kms from the township. They are threatening to take the entire community to set up camp on ancestoral lands unless their demands are met.
The catalyst for the protest was the federal government use of Intervention powers to take over the Ampilatwatja community run store. People are angry about the Income Management system, which already quarantines half of their welfare payments.
Now, the takeover means that their meagre income can only be spent at the government store. Banjo Morton, an elder involved in the walk-off says, "I been feeling shame because they take away our rights."
People are also getting increasingly sick. Septic tanks have failed, leaving sewage flowing over the floor of a number of the tin shacks people are forced to live in. The NT public housing agency, which seized control of the houses following the Intervention, had refused to fix the problem. Within days of the walk-off, repair trucks appeared at the community.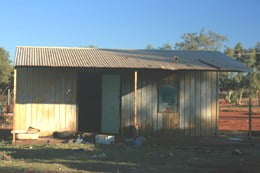 In a letter to Minister Jenny Macklin, community spokesperson Richard Downs said:
"Our people are demoralized, hurt, embarrassed, outcaste in their own community. We no longer have any rights to exist as humans in our own country".
"Under your GBM's and Intervention team's poor management my people and community is in disarray. We no longer have any confidence in your government. We have no other choice but to return to our grandfather's mother's country. I urge all our brothers and sisters along with non Aboriginal people to stand up and support us."
Elders are vowing to maintain their protest camp until Macklin visits the community and addresses their concerns.
Community leaders say No
The July walk off follows a Prescribed Area People's Alliance (PAPA ) meeting on June 18-20 in Darwin, marking two years of Interveniton. Representatives of 21 NT communities, homelands and town camps came together as the Intervention is about to enter a new phase.
In an attempt to deflect mounting national and international criticism, Jenny Macklin has announced that in October she will reinstate the Racial Discrimination Act (RDA). But Macklin is also determined to continue with punitive Intervention measures including the blanket welfare quarantine and compulsory land acquisition.
Trying to cover the explicit racism, Macklin talks of "resetting the relationship" with Aboriginal communities through "consultation". But the consultations are a joke (see p7).
The PAPA rally in Darwin released a statement which, blow by blow, condemns every element of the Intervention that has been extended in recent months.
The government says it will continue with welfare quarantines and 5-year leases. The PAPA meeting declared:
"Racism cuts us away. It feels like we're not citizens of Australia. People discriminate against us in every way. We don't have our rights".
In response to the NT Governments "A Working Future" policy, which spells the death of services to remote homelands, PAPA demanded:
"We want houses without having to sign leases and give up our land. We want houses on remote communities and homelands. We want proper infrastructure. We need electricity and water; we don't want to have [to] keep using generators and water trucks. We need proper roads to our communities".
Rallies around the country, in solidarity with the PAPA meeting and rally, won national TV news coverage that for the first time questioned the success of the Intervention.
Growing union support
On June 19 PAPA held a significant meeting with representatives from Unions NT. Brian Manning, a veteran from the Gurrindji walk off, told the meeting how unions in the late 60s gave support to communities fighting against rations and for land rights.
Sydney's Stop the Intervention rally was addressed by deputy assistance secretary of Unions NSW, Adam Kerslake. Braving torrential rain, contingents from the Teachers Federation, the CFMEU and ASU brought flags to the rally.
The scene has been set for even greater involvement of the unions in the campaign.
The ACTU congress in June carried a resolution calling for an end to welfare quarantining, rejecting the "no lease—no house" policy and supporting the Aboriginal struggle against the Intervention.
By Jean Parker