Hundreds of SkyCity Casino workers in Auckland, New Zealand have been striking every weekend since September to win back weekend penalty rates. Since the 1991 Employment Contracts Act was introduced workers there have lacked any minimum legal standards including weekend or late night penalty rates.
Solidarity's Erima Dall spoke to Tina Barnett, who works on the game floor at the casino. Tina has worked at SkyCity for 16 years and is an executive delegate with SEA UNITE (SkyCity Employees Association of UNITE union), which has 900 members at the casino out of 3500 workers.
Can you tell us about the Back to the Weekend campaign and what you are fighting for?
The strike is about bringing back penalty rates for nights and weekends, at time and a half. It was going to cost the company a maximum of $40 million a year. They didn't budge one bit.
Those are the hours when most of their profit is being made. It's about appreciating the sacrifices we make. Our quality time and family time is being taken away. When customers come to the casino it's our job to make that as enjoyable as possible, but when it comes to our leisure time it's a real struggle.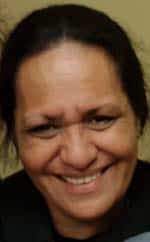 SkyCity workers fought against zero hour contracts and then it became national legislation, so if we win this, the UNITE union will push for it for everyone.
We have been striking for two months now. Every weekend we strike. Management are trying to say it doesn't have an effect. But they always overstaff now! So in my mind we're winning. Some workers just take the whole weekend off now to be with their families.
Every strike has a theme. We had a strike to go watch the rugby, we had a masked ball after the fire [at the convention centre]. And we're going to have a "back to the beach" action.
What was it like the first time you walked off the game floor?
You have to be prepared that the players are going to get upset. But they were really supportive. As each dealer walked off there was clapping and celebration. The management started to follow us around with security! It was very empowering.
The strike also covers cleaners, housekeepers, security guards and other staff at the casino. Our first picket back in early September had 250 people participate. Now the pickets have diminished in numbers. But we ask members to come out for at least one or two hours to picket every strike. What's sad is there is another union on the site that covers the overtime of our strike. But we have to stick to our Kaupapa—the cause. Even if we keep going over Christmas and New Year our members want to keep fighting.
The workforce at SkyCity is very diverse. How have you made sure the union is inclusive?
There was a time when recruitment got quite tough. A major barrier was not being able to speak the language, say of our Chinese and Indian workers. Because two Māori women were leading for a long time—myself and my friend—a lot of workers thought it was a Māori organisation. So I chose to step down and encourage more of our migrant members to step up. And that's been a really big improvement. We're all workers doing what's been asked of us by a corporate machine.
Tell us about walking out for the Climate Strike and your demands for public transport.
We've negotiated in our previous agreements more public transport for the staff so there are less cars on the road, and now SkyCity are promoting a raffle to win a Lamborghini for customers!
The majority of staff bring in their own cars. There is a shuttle service every two hours, but we need more public transport. Auckland is growing rapidly. The congestion at peak hours is phenomenal. So we're demanding "free and frequent" public transport to the city.
In Auckland we had 80,000 at the climate strike. We were the first workers who went on strike for the climate! It was awesome.
Can you tell us about the fire that broke out in the convention centre?
The fire started on a Tuesday night. There was smoke coming into the casino and staff were told to continue to work for up to five hours—now that is thick, black, toxic smoke.
After two days off there was a rush to get staff back to work. Our union was demanding the health and safety report that gave clearance for the precinct. No report has been given. They sent out a message for anyone pregnant or with respiratory problems to stay at home. But everyone else was expected to be back at work.
So we had strike action that weekend. We are demanding Work Safe do an independent investigation into the long term impacts of the smoke inhalation.