At least 35,000 public sector workers took to the streets of Sydney on September 8 in NSW's largest union rally in 20 years.
Thousands of teachers joined public servants, nurses and a contingent of 500 firefighters. One firefighter told the crowd, "Barry O'Farrell is offering us an impossible choice—either see our wages go backwards in real terms or sell off jobs to fund wage maintenance.
Besides O'Farell's 2.5 per cent wage cap, the Liberals' first budget two days before the protest brought fresh attacks. The public sector faces 5000 job cuts through voluntary redundancies, the privatisation of Port Botany and another $800 million in unspecified cuts.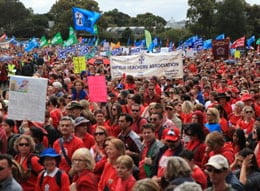 The day before the protest, the government moved against the NSW Teachers Federation, getting an order from the Industrial Relations Commission to ban teachers from striking. But the teachers union ignored the order. Six hundred schools were closed as teachers walked out in defiance. One hundred workers at Sydney Ferries employed on federal awards staged a four-hour snap strike on September 8 that the Liberal Transport Minister denounced as "illegal".
There was no shortage of anger against O'Farrell. The numbers on the demonstration almost double those expected by Unions NSW. But to knock out O'Farrell's wage cap and drive back his attacks we need further industrial action to disrupt government business and make his attacks unenforceable.
With the NSW Teachers' Federation about to start bargaining with the government, there is a chance for one of the largest and most militant public sector unions to defeat the wage cap. September's public sector-wide rally needs to be followed up with more united cross-union action to support the teachers and strike a blow against O'Farrell.
This will require further stop work action in defiance of the law. In the lead up to the September rally, some union leaders hesitated about calling such action, fearing that their union would face large fines. But the walkouts by teachers and Sydney Ferries workers showed that unions can successfully defy anti-strike laws and intimidation from governments and employers.
The government has made a point of initiating proceedings against the Teachers Federation that potentially could lead to fines, but it's in no rush to aggravate or make a public example of the union.
However, Unions NSW shows no sign of organising an ongoing industrial campaign to defeat O'Farrell. Their focus is on electing Labor at the next state election in four years' time. Unions NSW secretary Mark Lennon spoke at the September demonstration of a "long campaign" that unions would "take out into the community"— in other words, into marginal electorates. Despite his talk that there would also be "industrial aspects" to the campaign, no future action was announced on the day.
Rank-and-file union members will have to keep pushing for the industrial action needed to ensure Barry O'Farrell does not get away with slashing wages and running down the public sector. But the focus is now on the teachers. Their massive turn out at the rally shows their potential to take the fight to O'Farrell. Determined action by the Teachers Federation can break O'Farrell's wage cap. As the firefighter told the rally, 2.5 per cent will mean a wage cut. Teachers can't afford not to fight.