The east coast of Australia is gripped in an energy crisis that will likely take years to solve. Ordinary people will pay the price through their gas and electricity bills. Meanwhile it is a profit bonanza for coal and gas companies—and even for private renewable energy generators.
Australia's electricity grid still relies heavily on coal, which generated over 60 per cent of electricity in the National Electricity Market (NEM) over the past 12 months. But heading into winter an extraordinary 3 GW of the aging coal-fired power stations were shut down for unplanned repairs—equivalent to two or three large power stations. Inadequate planning for the energy transition meant that not enough replacement capacity was there to supply demand.
Total electricity demand in the week of 6-12 June was very similar to weekly demand during peaks in January 2022 and in July 2021. Compared to the winter peak in 2021, a similar 10 per cent of electricity came from gas. There were increases in renewable energy and battery power. But coal generation was much lower, and prices far higher.
Russia used to be the third-largest coal exporter in the world. But now NATO-aligned countries are scrambling to find other sources of coal, pushing the international price of coal eight times higher than it was in 2020 (Figure 1).
As a result the wholesale price of coal-fired power tripled, and at a time of high demand it supplied only 56.6 per cent of electricity, probably a record low for winter.
The situation led to NSW Energy Minister Matt Kean securing the power to order coal mines to increase supply to electricity generators. A significant quantity of coal for NSW's privatised power stations is supplied by Centennial Coal, bought in 2010 by a Thai company that operates power stations in Thailand and China, which are no doubt also thirsty for more coal.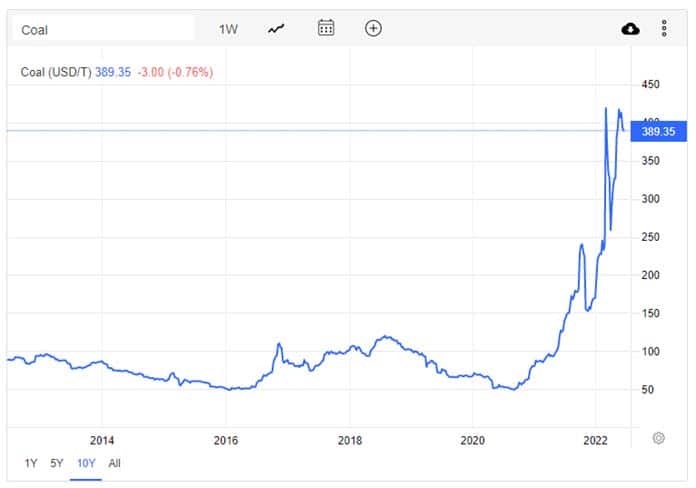 The reduced coal power capacity has led to increased use of gas power generation. While gas power generated an average of 6.3 per cent of electricity over the past 12 months (at $215 per MWh), this increased to average over 10 per cent in the past 30 days, at double the price (an average cost of $453/MWh).
Russia was also the world's largest gas exporter. NATO-aligned countries are now scrambling to secure supplies elsewhere, with prices spiking as a result. The rapid expansion of liquefied gas (LNG) exports from Queensland in 2015 had the result of linking Australian domestic prices to global prices as the companies that built the three Gladstone LNG terminals now had the option of sending gas overseas instead of for domestic use.
Neither the Queensland nor Commonwealth governments placed any restrictions on what gas companies could do with this gas. Gas buyers in China, Korea and Malaysia helped underwrite the eye-watering cost of these projects based on contracted future supplies.
In contrast, in 2006, the West Australian government stared down opposition from Exxon and Woodside to reserve 15 per cent of the gas from new projects for domestic use. A large portion of the domestic gas reserves supplies the WA publicly-owned power generation system, and remains available for $6-7/GJ—even though gas can now be exported for $30-40/GJ, after accounting for the cost of liquefying and shipping it (Figure 2).
Coalition Energy Minster Ian Macfarlane argued this reservation policy was artificial interference in the market, would result in unviable projects and would leave Australia's reputation as an investment destination in tatters—statements that have been echoed by current Ministers. Instead the gas companies went ahead and kept making huge investments.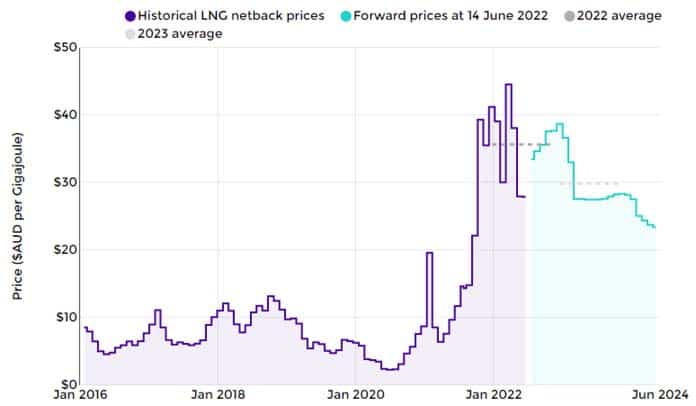 The cause of this energy crisis is not just a lack of planning for an energy transition, but also the delivery of electricity through a marketised system that relies on fossil fuel companies with an overwhelming influence on domestic policy, and an ineffective regulatory system that prioritises their profits.
Even with the June market suspension, existing market rules mean that hundreds of millions of dollars will likely be paid to generators in compensation.
Our future energy system
Coal and gas companies are seeking to exploit this crisis to argue for more drilling and mining. Australia's offshore oil and gas is booming, and enormous new projects like Scarborough and Barossa are moving ahead. Onshore drilling in the NT Beetaloo Basin is proceeding, supported with hundreds of millions from the Coalition's "gas-fired recovery" policy.
Santos is using the crisis to argue it must proceed with its coal seam gas project in the Pilliga Forest, despite opposition from Traditional Owners and multiple unions. They have the support of new Labor Resources Minister Madeline King.
But a big part of the reason Santos is so desperate to proceed with the Pilliga gas project is that its gas supplies for the Gladstone LNG export terminals are falling short. Origin, Shell and especially Santos over-estimated the amount of gas available and contracted to sell more gas offshore than they could source. To cover the shortage, they have been diverting local gas supplies.
ACCC Commissioner Anna Brakey explained in March that, "It's this rapid and significant reduction in domestic supply from the LNG producers that's contributed to the tight and uncertain conditions in our domestic market. And let's be clear—this is at odds with what government was told before the LNG projects were developed. Gas companies assured governments that there was sufficient supply and that domestic gas prices wouldn't go up."
More gas isn't the answer
The climate crisis means that we can't build any new gas or coal projects—even the conservative International Energy Agency has been very clear about this.
Using gas is expensive too. CSIRO modelling says that even with a gas price of $6/GJ, gas power will be more expensive than renewable energy, including the additional costs of batteries and transmission to integrate and balance a renewable energy system. The ACCC is projecting that gas will cost over $20/GJ at least until 2024 (Figure 2).
Instead, rapid investment in efficiency and electrification for households and industry is needed to reduce reliance on gas. New gas connections should be banned.
Renewable energy, batteries and transmission must also be built.
Public ownership and an end to NEM rorts
The past 30 days also show that the existing system of private ownership of renewable won't deliver the transition to cheaper renewables as is frequently spruiked.
The price of renewable energy has climbed as private renewables companies profited from generally higher prices. This is because of both the NEM's "bid stack" process, and because companies know they are bidding against high-cost gas and coal power. Batteries in particular tend to compete directly with gas.
In contrast, in the ACT, electricity prices are secured through long-term contracts with renewable energy companies instead of relying on the NEM. After accounting for inflation, basic electricity tariffs for ACT consumers will fall by almost 5 per cent, while consumers in most other states face substantial price rises. The ACT government estimates that average household electricity bills will be almost $800 lower in the ACT than NSW.
But the ACT system still relies on private renewable energy companies to build and operate projects, often with poor labour records.
Tackling the energy crisis and making a successful transition to renewable energy is going to need significant public investment, ownership, and a new system of distributing electricity that recognises electricity is an essential service and public good, instead of prioritizing the profits of energy companies.
By Penny Howard