On 8 December, Minister Chris Bowen delivered the first Annual Climate Change Statement to Federal Parliament, reporting on progress towards its emissions reduction target of 43 per cent on 2005 levels by 2030.
Tabling a report from the Climate Change Authority (CCA), which said that Labor's major policy initiatives would only drive reductions to 40 per cent by 2030, Bowen insisted "we are on the right track" and that further measures taken to the election would make up the remaining 3 per cent.
Bowen detailed the increasingly destructive impact of climate change, arguing that "not acting would be an unforgivable act of intergenerational negligence". But behind these fine words is the catastrophic reality of Labor's approach to fossil fuels.
Labor's climate strategy revolves around obfuscation and excuses for a massive expansion of fossil fuel production in Australia, with 69 new coal projects and 45 new oil and gas projects currently in the pipeline.
The government's calculations leave out emissions from fossil fuels mined here but burned overseas. However, energy used and emissions released during mining are still a major source of domestic emissions.
A slew of new projects means these emissions will easily wipe out any reductions from the transition to renewable energy. Indeed, the CCA report said that emissions reductions in the electricity sector in 2021-22 were "more than offset by increases in stationary energy, agricultural and fugitive emissions", primarily due to "the upward trend in mining activity, particularly coal and natural gas".
But Bowen did not mention the words "fossil fuels", "coal" or "gas" once in his 20-minute speech.
Smoke and mirrors
The real situation is considerably worse than acknowledged by Bowen and the CCA's creative carbon accounting. Labor claims that Australia has already reduced emissions by 21 per cent since 2005, meaning only another 22 per cent reduction by 2030 is needed.
In reality, emissions coming from economic activity in Australia have only decreased 1.8 per cent since 2005.
The other supposed reductions come from "land use" and rely on the bogus idea that carbon "sequestered" in soil, forests and other vegetation can cancel out emissions from industry.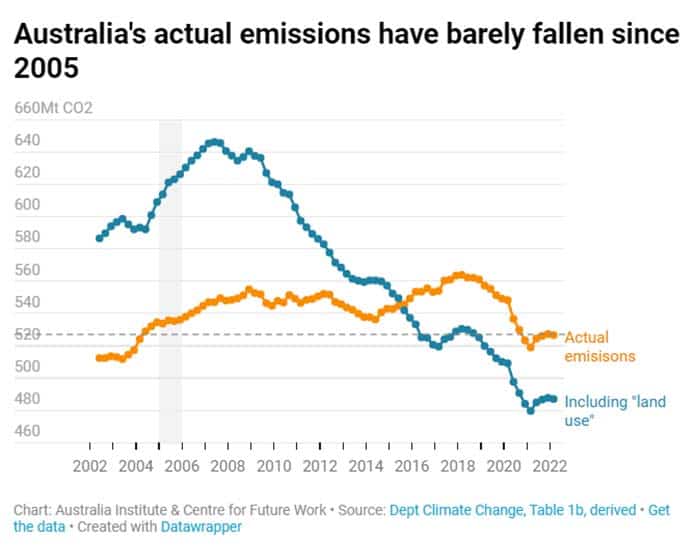 Offsets from land use play a central role in both projected baseline reductions to 2030 and in Labor's flagship Safeguard Mechanism policy.
But carbon stored in vegetation, which can quickly burn or decompose, has little impact on the greenhouse gases in the atmosphere caused by burning fossilised carbon.
A revamped Safeguard Mechanism is set to begin operating next year to regulate emissions from more than 200 of the country's heaviest industrial polluters.
Companies are set to be given the option of continuing with business as usual and simply buying Australian Carbon Credit Units (ACCUs) to meet their emissions obligations.
This is despite a report released earlier this year by Professor Andrew Macintosh, the former head of government body set up to monitor carbon credits, who denounced ACCUs as a "fraud" that had no serious impact on forest cover or emissions reductions.
A review of the scheme is due to report in December, but this has not stopped active planning for major reliance on ACCUs.
Bowen is also pushing ahead with legislating new "Safeguard Mechanism Credits", that will also allow companies to buy their way out of actual emissions reductions. These will be granted to companies who claim to have reduced emissions further than required, allowing them to sell them on.
But as the Australia Institute points out, there is currently no plan to stop companies gaming this system by, for example, claiming credits when particular operations were scheduled to close anyway. There is also no plan for how the system will absorb new coal and gas projects that come online.
The only section of the Australian economy which is making real cuts to emissions is the electricity system, as renewable energy replaces fossil-fuel power generation.
This sector will do the heavily lifting for Labor's reduction target, with Bowen claiming renewables will rise from the current 30 per cent of electricity generation to 82 per cent by 2030.
While the government's "rewiring the nation" plan commits significant investment to transmission infrastructure, investment in generation capacity will be left almost entirely to the private market. And there are worrying signs of slowing investment in new renewable energy over the last year.
A transition with the speed and scale required to meet the climate crisis requires massive, direct government investment and planning. In Victoria, Dan Andrews' election policy to "bring back the SEC" and build "publicly owned renewable energy" was enormously popular.
This company however, will be 49 per cent owned by private interests and has only committed $1 billion to new renewable projects, a tiny fraction of what is needed.
Despite the hype, Labor is accelerating down the road to climate catastrophe.
By Paddy Gibson