Solidarity has been involved in the fight against the NT Intervention since it was launched in 2007. This pamphlet brings together articles published over this period that report on resistance from Aboriginal communities and supporters to the policy and analyse the assimilationist aims behind it.
Click on contents link below to jump to that section. You can also download a pdf version of the pamphlet here.
Timeline on the Intervention
ANALYSIS
Introduction: Aboriginal assimilation and the NT Intervention
Aboriginal communities demand jobs and services
GenerationOne's assimilation agenda
Aboriginal child removals: A new Stolen Generation
RESISTANCE TO INTERVENTION
Resistance at the beginning of Intervention
Gurindji demand freedom from Intervention
What happened to the resistance?
FEATURES
Why native title hasn't delivered
Deaths in custody: Locked up and killed for being black
How Hawke and Keating destroyed land rights
Socialists and Aboriginal rights
Unions and the black moratorium of 1972

A timeline of racist Intervention
2007
June 21
Northern Territory Emergency Response (NTER) legislation is passed through Federal Parliament
The Racial Discrimination Act (RDA) is suspended. The Australian Army enters Aboriginal communities as part of the "stablisation" phase.
July 7
NT NAIDOC week marches oppose Intervention
More than 2000 people march in Darwin, the biggest NAIDOC march in NT history. Two weeks later 500 march in Alice Springs, led by women from prescribed areas who burn a copy of the legislation.
Nov 18
First National Day of Action against the Intervention
500 march in Sydney and Alice Springs. Rallies in other capital cities.
2008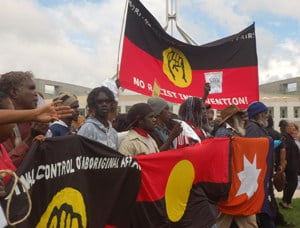 Feb 12
Convergence on Canberra
A delegation of 50 Aboriginal people from the NT lead a 2000-strong protest on the new Labor government's first parliamentary sitting day.
Feb 13
Apology to the Stolen Generations
Huge crowds gather around the country to see live broadcasts of Kevin Rudd's apology. He commits to "a future where this parliament resolves the injustices of the past must never, never happen again".
Feb 22
CFMEU annual conference calls for repeal of NTER legislation
July
Future housing restricted to 16 communities
NT and federal program restricts new housing in the NT to only 16 communities—on the condition that township land is signed over to government on long term leases.
Sept 29
First meeting of Prescribed Area People's Alliance (PAPA)
More than 100 Aboriginal people from across the NT meet in Alice Springs to call for an end to the Intervention.
Oct 13
NTER Review Board report recommends end to compulsory income management and re-instatement of RDA
Oct 18
Bi-lingual education scrapped in NT
The NT government announces the end of bi-lingual education programs. Teaching in Aboriginal languages will be restricted to afternoons.
2009
April 2
UN Human Rights Committee expresses concern with Intervention and calls for reinstatement of RDA
May 20
NT government sounds death knell for homelands
The "Working-Futures" policy is announced. This will see more than 500 Aboriginal communities starved of resources, forcing people to move into 20 "hub towns".
June 3
ACTU calls for an end to discriminatory policy
The Australian Council of Trade Unions passes policy demanding an end to compulsory Income Management, the acquisition of Aboriginal land and the tying of basic services to long term leases.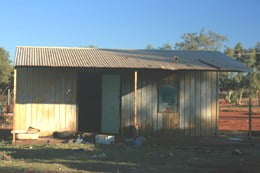 July 14
Elders from Ampilatwatja lead a walk off, setting up a protest camp three kilometers from the township
November 18
Amnesty International Secretary General Irene Khan condemns racial discrimination under the Intervention after visiting the NT community of Utopia
December
Federal government completes takeover of Alice Springs town camps, through Tangentyere council signing 40-year lease. Macklin had earlier threatened compulsory acquisition if leases weren't signed
2010
Feb 14
Launch of protest house at Ampilatwatja walk off, built by union solidarity brigade with help from local community in two weeks
Feb 24
UN Special Rapporteur on Indigenous rights James Anaya releases his findings on the Intervention, condemning it as "racist" and in breach of Australia's obligations under international law
June 21
New Intervention laws passed, amidst claims they reintroduce the RDA—yet this only applies to Income Management and they are designed to ensure compulsory welfare quarantining can continue
August 21
Barb Shaw outpolls all other candidates across Central Australian Aboriginal communities in the federal election, running on an anti-Intervention platform for The Greens
October 20
More than 200 Gurindji people stop work at Kalkarinji to protest the Intervention and loss of CDEP jobs
November
Trade union delegation led by ACTU and Secretary Jeff Lawrence tours NT communities to hear about the impact of Intervention
2011
May 10
Announcement of new Income Management "trial sites" at five locations outside the NT. A coalition against Income Management formed in Bankstown with support of unions, church groups and community sector
June 21
Statement "Alternative to the Intervention: Rebuilding from the ground up" launched by the anti-Intervention campaign in Darwin
June 22
Jenny Macklin releases Stronger Futures discussion paper outlining plans for a "second Intervention" and launches new round of sham consultations
August 26
Gurindji Freedom Day's 45-anniversary marked by protests against the Intervention
November 14
Government announces Stronger Futures legislation, entrenching most Intervention measures for a further 10 years
2012
January 4
Kwementyaye Briscoe dies in a police cell in Alice Springs after being wrongfully arrested and assaulted by police. Family members say he is a "victim of the Intervention".
April 4
The Yolngu Nations Assembly of Arnhem Land releases a statement demanding the withdrawal of Stronger Futures legislation. A broad alliance backs the statement including the Catholic and Anglican churches, major trade unions, Aboriginal bodies and more than 40,000 people who sign a supporting petition "Stand for Freedom"
June 28
Stronger Futures passes into law
July
NSW branch of the Labor Party unanimously votes to oppose compulsory income management. Child protection workers from the Public Sector Association vote for an industrial ban on the implementation of income management in NSW

Six years of shame: Aboriginal assimilation and the NT intervention
On June 21 2007, Liberal Prime Minister John Howard launched the Northern Territory Intervention.
The Racial Discrimination Act (RDA) was suspended to allow the imposition of an explicitly racist regime over Aboriginal lives and communities. The army was sent in to Aboriginal lands as a "shock and awe" tactic to send a clear message that the Commonwealth was in complete control.
Howard had fought assiduously to re-establish the politics of assimilation throughout his eleven years in office, to push back the gains made by the Aboriginal rights movement and the fight for self-determination.
He mercilessly manipulated the issue of child sex abuse and wild assertions about "pedophile rings" to push his assimilation agenda. Those assertions were disproven by extensive investigations by the Australian Crime Commission.
Howard's new assimilation project also came with a hard neo-liberal economic edge. He declared that Aboriginal people had "no future outside the Australian mainstream".
Funding agreements with the NT government restricted productive investment to a handful of larger communities—the rest were written off as "economically unviable".
In 2012, Labor passed Stronger Futures in the Northern Territory, a package of laws extending most Intervention measures until 2022. Draconian controls first mooted as an "emergency response" have become the touchstone for Aboriginal politics into the foreseeable future.
The impact
The Intervention has had a devastating impact on Aboriginal communities. At the core of this has been the destruction of employment opportunities and municipal and other community services with the closure of the Community Development Employment Projects (CDEP). A recent report by the Council of Australian Governments (COAG) reform council found that the NT had the highest level of Indigenous unemployment.
After six years of the Intervention, the NT Children's Commissioner Howard Bath says that, "on the whole, the child well-being indicators in remote communities are getting worse". A recent Aboriginal and Torres Strait Islander Social Justice Commission report says that the number of incidents of attempted suicide and self-harm being reported in remote communities has exploded by more than 500 per cent.
The report noted: "We know that feelings of hopelessness and disempowerment contribute to vulnerability to suicide. These types of feelings are well documented and widely acknowledged symptoms of the local government reforms and the Intervention."
Aboriginal imprisonment has doubled since 2007, giving the NT one of the highest imprisonment rates in the world. The number of Aboriginal women being incarcerated is now more than three times pre-Intervention levels. Conditions in NT prisons resemble concentrations camps, with 15 people in a cell, thin mattresses on the floor and cells which flood when it rains.
More than twice the number of children are being removed from their families by child protection authorities (see back page).
Despite racist legislation and a massive police crackdown, alcohol-related domestic violence incidents have increased with every year of the Intervention. Fewer children are going to school, despite three layers of punishment for parents—fines from the NT government, income management through Centrelink and cuts to Centrelink payments under the new School Enrolment and Attendance Measure (SEAM).
The $700 million Strategic Indigenous Housing and Infrastructure Program (SIHIP) has done more to line the pockets of multi-national construction companies who won the contracts than alleviate the shocking housing conditions in Aboriginal communities; more than 20 people in a house is still common.
The government's own figures show there will be no improvements in overcrowding rates. New housing is only planned for 16 of the hundreds of Aboriginal communities and outstations. The NT Housing department has taken over administration from Aboriginal organisations, leading to increased rents and deterioration in services.
The compulsory five-year township leases seized through the Intervention lapsed in June 2012. But the Labor government then put a new ultimatum to communities—sign a 40-year lease over housing stock and administrative buildings or suffer cuts in funding. Since taking power in September 2013, the Liberals are again foisting 99-year, whole of township leases on communities, in "exchange" for investments from the Aboriginal Benefits Account. The ABA comes from revenue from mining on Aboriginal lands and is already supposed to be spent on community development.
National agenda
Besides the devastation in the Northern Territory, the Intervention has provided the framework for spreading the politics of assimilation and punishment across Australia.
In every state, more punitive measures are imposed on Aboriginal people. The number of Aboriginal children being removed by child protection authorities has increased 68 per cent over the years of the Intervention.
Labor cut CDEP across Australia, crippled communities and threw more than 20,000 Aboriginal people out of work.
Rene Adams, head of the Toomelah Aboriginal Co-op in North West NSW told Tracker magazine, "all people who were on CDEP are basically unemployed now… Mental health issues and suicides have increased. There's more drugs, more violence, more alcohol. It's heart breaking."
Since the Intervention, the government's major Indigenous employment initiative revolved around a corporate venture, Australian Employment Covenant (AEC) and GenerationOne, run by mining boss Andrew Forrest. It supposedly aims to get 50,000 Aboriginal people into jobs pledged by the corporate sector.
When the AEC was set up in 2011, the then Labor Indigenous Employment Minister, Mark Arbib, told the Senate that the explicit aim of the AEC was to "mainstream" Aboriginal people away from their communities: "The issue that you are raising, which is people in remote areas being mobile enough to move from, say, Yirrkala down to Melbourne to take up a job through the AEC, is extremely difficult… [but] I am confident that we will see further improvement, because we are making the connections now that allow for better chanelling of people into jobs."
More than 50,000 "pledges" have now come in from corporate Australia—but these are pledges, not actual jobs. Only 14,000 jobs have been secured in the last five years, and according to the AEC's own figures 30 per cent of the jobs did not last six months.
Andrew Forrest says he has personally contributed between $50-100 million of his personal fortune to the project. It would have been far better if he had just handed the money to Aboriginal organisations to fund vital services.
One of the first acts of the Abbott government was to appoint Forrest to head yet another "review" into Indigenous employment, which has foreshadowed even more punitive measures to force Aboriginal people off their lands into work or training for corporate Australia.
The Liberals' hand-picked "Indigenous advisory council" includes the CEO of Westpac and Managing Director of Rio Tinto. In December 2013 they changed of regulations to the NT Land Rights Act to allow new companies outside of the Land Council structure, including non-Aboriginal interests, to deal away Aboriginal lands.
Despite the intensity of these attacks, Intervention has failed to smash the idea of self-determination. If anything its dramatic failures have on the one hand increased the opposition to the notions of assimilation behind the Intervention, and on the other increased the institutional support for policies backing Aboriginal self-determination.
In 2012, hundreds of submissions from across Australia were made to an inquiry into the proposed "Stronger Futures" laws, calling on the government to abandon the Intervention, including from the Australian Council of Trade Unions, the Australian Council of Social Services and national Aboriginal organisations. A statement by the Yolngu Nations' Assembly in Arnhem Land rejecting the Stronger Futures bill was supported by the Uniting and Catholic Churches.
Empty symbolism
At the ideological level the government is trying to cover the deprivation of Aboriginal people and their ongoing racism with symbolic gestures.
The first was Kevin Rudd's much-acclaimed apology to the Stolen Generations. Now we have the government-backed push for constitutional recognition of Indigenous people. The first politician to seriously float this idea was John Howard in the final month before the 2007 election, immediately after he launched the NT Intervention.
In late May 2012, Labor, Liberal and corporate leaders participated in the launch of a flashy government funded campaign for changes to the constitution, branded "Recognise".
But while supporting "Recognise", newly elected Liberal Prime Minister Tony Abbott has stressed there will be no recognition of Aboriginal people's rights to land—or rights to anything at all. There will just be a simple statement that Aboriginal people were here before colonisation.
The support by Australia's political elite for constitutional recognition is designed to incorporate Aboriginal leaders into a tokenistic process that provides cover for the ongoing racism and devastation wrought by government policy.
"Recognise" offers no relief from Stronger Futures or the shattering of Aboriginal communities through child removal, deaths in custody, increasing incarceration, more punitive welfare reforms and moves to undermine collective ownership of land. It will do nothing to stop a new wave of devastating funding cuts announced by Abbott, including the removal of $13 million in funding from Aboriginal Legal Aid and the abolition of advocacy bodies such as Aboriginal Early Childhood Support and Learning.
These cuts should be fought with protests and strikes. There are campaigns against Income Management and the growing outcry over the new Stolen Generation that need support. So too protests for justice for deaths in custody victims and to defend Aboriginal land from mining and pollution, like the campaign against the Muckaty waste dump. A renewed fight for Aboriginal rights is needed—out on the streets—to push back the offensive begun by the Intervention and put self-determination back on the agenda.

Aboriginal communities say: 'We need jobs and services not the Intervention'
Mark Fordham was the works manager for the Barkly Shire Council (BSC) who service Ampilatwatja, a "prescribed community" under the NT Intervention. Alongside the Intervention, mega-Shires like the BSC have taken over from locally run Aboriginal community councils, acquiring all of their assets and laying off staff.
On April 9 2010, a temporary Barkly Shire Services Manager appointed to Ampilatwatja ordered workers to dump raw sewage at the local tip, approximately 800 metres from the school.
Mark refused to co-operate with this order and spoke out publicly when the Shire brought in contractors to do the job. Mark has been persecuted for speaking out. After he challenged a BSC decision to refuse him annual leave, Shire management sent police to evict Mark and his two young sons from their house at Ampilatwatja. He was issued with a dismissal notice, arrested for threatening Shire management and banned from all communities in the Barkly region.
Here he speaks about the incredible difficulties faced by Aboriginal workers are who trying to deliver basic services in the community under the regime of the Intervention. He also discusses the new Shires and the NT Government's "hub towns" policy that means no new resources to Ampilatwatja and the majority of communities in the NT.
Tragically Mark died of a heart attack on February 2, 2011, aged just 37.
A campaign initiated by unions and the Intervention Rollback Action Group in Alice Springs has been working with unions in Central Australia, especially the LHMU who represent Shire workers, to demand investment in "Jobs with Justice" instead of the racist Intervention.
In your time here, what has been organised by the Government Business Manager (GBM) who has been installed through the Intervention?
The only thing I have seen in the last eight to ten months is a big shelter over the Basketball court. But the funding was approved for that years ago, the GBM just got the money to a contractor.
What's the attitude to the local Aboriginal workforce when these projects happen?
It's a very sad story. No Aboriginal person on the community was employed to help build the Basketball stadium. The contractors have brought in entirely their own work crew and gang.
Every contractor that comes out does exactly the same thing. They don't hire any of the local guys. Plenty of people here have training—but they are not willing to pay anyone a proper wage.
You've had experience working with the Shire. What is the attitude of the Shire to dealing with the serious lack of services here, or getting local Aboriginal people into work?
It's a complete joke. There are positions that are badly needed on this community but the Barkly Shire refuses to put people on. With my position I was forced to do half a dozen jobs in a day—and the next day five or six others.
That's happening right across the region. We need proper positions so people can work on basic things like rubbish, sewage and maintenance everyday if we're going to keep up with the problems.
So as a result, you get the sewage overflows, the garbage everywhere?
You get to a crisis stage where you have five or six houses that have got sewage problems. Then we need to drop what we are doing as our daily or weekly job to scramble and try and stop a sewage overflow.
Do the Barkly Shire often use contract labour from outside the community?
They get contractors for basically everything. Pump out septic tank and dispose of it any way they can, the whipper-snipping, lawn mowing, hanging doors and windows. All these jobs that Aboriginal people can and should be doing.
What about the Community Development Employment Projects (CDEP) run through the Shire, where people are now working for their Centrelink payments that are quarantined on the BasicsCard?
When I started here, we had no other full-time workers on. But I had 15 blokes coming in every day (for CDEP) and I probably would have got eight of them wanting to work full days. But the Barkly Shire was only willing to run them for their Centrelink payments, which is 16 hours a week. Some guys would work full days, even though they weren't being paid for it. They just wanted to work.
Through Centrelink people only get $100 or something cash a week and the rest on the BasicsCard. So a lot of those guys have just dropped out and walked away. There's no light at the end of the tunnel. Forever and a day just work CDEP for the BasicsCard. Why are we not paying them wages?
What sort of work were people doing for the BasicsCard?
All municipal work. Before we had the rubbish truck, they were actually picking it up by hand. Mowing the lawns, painting, housing maintenance, pumping the septic tanks, fixing the airstrip, slashing the grass and fixing fences.
Have you ever encountered racism from the Barkly Shire managers?
It exists, but these people in these positions have the experience to be nice about being racist. For example, I suggested for them to put in for a grater, or some heavy earth moving equipment to maintain the roads—invest in some equipment for the whole region. But as an Aboriginal person, I get the feeling that they don't take me seriously. It's not because of my lack of experience or education, it's because of the colour of my skin. I haven't seen any Aboriginal people in senior Shire positions. All of them are taken up by whitefellas really.
Can you take us through step by step about what happened with the dumping of the sewage?
When I first started here, one of the main issues was that a lot of septic tanks were overflowing. The guys were being instructed by the Shire to just take it out bush and dump it on the ground. I said that this was an illegal practice and I didn't want to have any part in it. So the previous Shire Services Manager got a licensed truck out from Alice Springs, to travel back and dispose of it in the proper manner.
But since that manager has left and the temporary manager has come in—who happens to be the Regional Housing Manager for the Barkly Shire—we've just gone back to the Middle Ages so to speak. He just ordered we go out and dump it out on the flat at the tip.
The local guys refused. But they brought in two contractors who pumped out over 3000 litres, then went to the rubbish dump, just let the hose out and drove round and round in circles until all the sewage had drained out.
So now we've got approximately 3000 litres of raw sewage sitting out at the rubbish dump. It's rained for a couple of days, all muddy for the dogs to come back here. That afternoon one of the contractors was flown out to hospital. Just by watching those guys work I could tell they had no training. They drove around the whole community with it on the truck, dripping raw sewage out the back!

GenerationOne: the gloss on an assimilation agenda
GenerationOne is a corporate-funded campaign, ostensibly aiming to "close the gap" in employment outcomes between Indigenous and non-Indigenous people. But behind the gloss lurks a contemporary agenda of assimilation.
GenerationOne is a new front for the Australian Employment Covenant (AEC), launched by then Prime Minister Kevin Rudd and Fortescue Metals Group CEO Twiggy Forrest in October 2008 and backed by other corporate moguls such as James Packer and Andrew Fox.
Forrest is the same man whose company won a court case in 2009, FMG vs Cox, establishing that there is no serious obligation to negotiate with Native Title holders before mining on their land.
The AEC offers training subsidies to corporations pledging to employ Indigenous people and ties these positions into Jobs Services Australia run through Centrelink. The AEC committed to creating 50,000 jobs for Indigenous people in two years. These promises sounded hollow then and now look like a sick joke.
A report by Dr Kirrily Jordan from the ANU, released in October 2010, found that the AEC had achieved less than 3000 job placements in two years.
Questioning in the Senate by Greens Senator Rachel Siewert revealed that only 282 job placements were confirmed to have lasted beyond 26 weeks (the period of intensive government subsidy).
Andrew Forrest says that approximately 25,000 jobs have been "pledged" by corporations and governments across Australia. But the vast majority of these positions do not yet exist.
The AEC and GenerationOne are key planks of an assimilationist government policy framework that is about dismantling Aboriginal communities and organisations and blaming Aboriginal people themselves for social problems such as unemployment.
Mainstreaming
The AEC has replaced Community Development Employment Projects (CDEP) as the government's premiere Indigenous employment strategy.
CDEP focused on employment providing services within Aboriginal communities and was administered by Aboriginal organisations. In contrast to the AEC's fictional 50,000 jobs, at the height CDEP in 2005, more than 35,000 Indigenous people were engaged in the program.
Wages were substandard and CDEP workers were denied key rights such as superannuation. But rather than build on the strengths of CDEP and improve conditions for workers, the Howard government began to abolish CDEPs in 2007. The results have been devastating. Indigenous unemployment has gone from 13.8 per cent in 2007 to 18.1 per cent in 2009. Remote Aboriginal communities across Australia relied on CDEP for the delivery of basic municipal services. Many face collapse.
Kirrily Jordan's report revealed that AEC jobs were overwhelmingly concentrated in major capital cities.
The AEC explicitly seeks to "mainstream" Aboriginal people through forced migration from their communities into urban centres. Indigenous Employment Minister Mark Arbib assured the Senate that the government was up to this massive task of social engineering: "The issue that you are raising, which is people in remote areas being mobile enough to move from, say, Yirrkala down to Melbourne to take up a job through the AEC, is extremely difficult… [but] I am confident that… we are making the connections now that allow for better channelling of people into jobs."
We can't rely on the "goodwill" of Forrest and Co; Indigenous employment targets need to be forced on the corporate sector by law. And we need a serious fight back demanding public investment in employment schemes under Aboriginal control—starting with resistance to the NT Intervention and the jobs massacre now taking place across remote Australia.
By Jasmine Ali and Paddy Gibson

Aboriginal child removals: A new Stolen Generation
One of the first acts of the Labor government in 2008 was to apologise to the Stolen Generations. Then Prime Minister Kevin Rudd said "the injustices of the past must never, never happen again." But Aboriginal children are being removed from their parents in numbers far higher than during the Stolen Generations and the rates are skyrocketing.
The paternalism of the Protection-era that saw thousands of Aboriginal families ripped apart has been reborn. The numbers of Aboriginal children removed has increased five times in the past 15 years. The majority of children are not placed with relatives or kin. Aboriginal Legal Service workers say that child protection agencies often refuse to engage with families before babies are removed and consistently favour non-Indigenous carers.
The rate of removal is highest in NSW, where in 2011, 9.6 per cent of Aboriginal children were in out of home care. Nationally it is 5.5 per cent.
The Queensland Child Protection Commission of Inquiry found that "up to 197 babies were taken from their parents hours after birth in north Queensland hospitals between July 2009 and June last year". Witnesses said, "People in communities are calling it a Stolen Generation, just with another name". Many women who have their babies taken away are not represented at their initial court appearances—or don't challenge the order because they do not know they can.
At a conference of the Secretariat of Aboriginal and Islander Child Care (SNAICC) in 2013, advocates reported a shocking rate of surveillance. Up to 62 per cent of Aboriginal children in Queensland are currently "known to child protection". From every state, there were stories of armed police accompanying child protection workers to raid houses and rip children away.
Delegates at the conference voted unanimously to initiate a national campaign to stop the removals, reunite children who have been taken and win resources for Aboriginal controlled agencies to support struggling families.
Neglect?
Most removals occur because of supposed "child neglect". But the real neglect begins with a racist system that holds Aboriginal people in extreme poverty and squalid living conditions.
A recent United Nations Human Development Index report rated Australia second in the world for quality of life. But according to researcher Gerry Georgatos, on the same indicators Aboriginal people would be 122nd. Overcrowded housing is endemic in communities, with more than 20 people commonly cramming into one house. Third world health conditions such as otitis media (ear infections) and trachoma, eradicated in the rest of the developed world, are common.
Aboriginal family support services are barely surviving. Howard-era funding cuts and the abolition of Community Development Employment Projects (CDEP) destroyed many. Funding agreements for 33 Aboriginal child and family centres are set to expire in 2014, yet neither major party has committed to continue the funding.
One former worker from the Daguragu family centre in the NT told the Intervention Rollback Action Group about the terrible consequences of the closure of her program, "It's really hard for them now… if their little babies don't put on weight for two or three weeks, they be taken away from their mother's arms by welfare".
Where support services do exist in the NT, they can't be accessed unless parents agree for 70 per cent of their Centrelink payments to be quarantined under "income management".
Paternalism
According to the Aboriginal and Torres Strait Islander Women's Legal and Advocacy Service, "the child protection system is too closely related to the historical discriminatory policies of the past which deemed A boriginality to be sufficient grounds for removal of children."
This is the result of many years of a blame-the-victim approach in Aboriginal politics, aiming to shift responsibility for chronic social problems away from government neglect and racism and onto the Aboriginal people who are suffering. This culminated with the Northern Territory Intervention.
Liberal NT Chief Minister Adam Giles has even called for more removal—he wants to change NT laws that specify that agencies must try to give a child a home with Aboriginal people before giving them up for adoption to non-Aboriginal people. (These laws, however, have done nothing to stop two thirds of current foster placements being with non-Indigenous carers).
According to Giles, "People were too scared of the Stolen Generation. And I believe that's why there's a lot of kids out there with such social dysfunction".
A.O. Neville, the Commissioner for Native Affairs during early years of the Stolen Generation, put it similarly in 1934: "They have to be protected against themselves whether they like it or not."
By Paddy Gibson

Communities opposed Intervention from the start
The Walpiri people of Yuendumu, 300 kilomtres northwest of Alice Springs, have been at the forefront of the fightback against the NT Intervention.
Following Howard's announcement in June 2007, the community council took a strong position against the laws and adopted a strategy of non-compliance that held off repeated attempts to enforce regressive changes.
Harry Jakamarra Nelson, president of the community council, was one of many Yuendumu residents who traveled to Canberra to join a mass demonstration against the Intervention on the first sitting day of parliament for the new Rudd government.
He argues that the paternalism of the Intervention has been "a nightmare… it's trying to take us back forty years" and insists, "our people will never bow down".
The Intervention saw a Government Business Manager (GBM) stationed at Yuendumu behind a barbed wire fence. The GBM was given extraordinary powers, including the ability to remove people from their own community and seize control of locally owned assets and services.
He refused to talk to local people, liaising only with white "bosses", without even introducing himself to many respected traditional owners and community members.
From their first appearance in the town, Intervention officials were met with angry community meetings.
Jeanie Egan, from the Yuendumu community council has said, "They come here to tell us what to do. They are not interested when we talk about our rights."
Yuendumu is proud of successful independent organisations that provide services and employment opportunities in the community, built up over many years by the local community. Yuendumu women were the founders of the Night Patrol Service, which has been copied in many communities across the NT. It has been successful in assisting people out at night who are at risk of causing or being the victim of crime, and providing them a safe place to go to.
But rather than supporting local initiative, Intervention officials applied enormous pressure on community-run organisations, trying to seize assets and administrative control.
The Old People's Program, for example, has consistently been forced to assert its autonomy.
The biggest confrontation however, came over the welfare quarantine system. This system has proved a disaster across the NT, segregating service delivery in Centrelink and shops and severely restricting the ability of Aboriginal people to control their own lives.
Community store defies quarantine
In late 2007, Intervention officials began trying to set a firm date for the introduction of the quarantine. But non-cooperation by the people at Yuendumu frustrated this. In open defiance of officials, the local Social Club store and the mining shop refused to apply for a license that would allow the new system to operate.
This left Intervention officials with a choice. They could have brought in the quarantine without a local shop in the system, forcing people to travel the 300 kilometres into Alice Springs for shopping.
Similar measures have been applied in other communities, forcing literally thousands of people into urban centres.
But Yuendumu is the largest remote community in central Australia and the backlash would have been too strong. Instead, they pushed on with attempts to enforce the policy against overwhelming opposition in the community.
From April 2008, the Social Club store, which has been community owned and run for decades, began to be threatened with take over. Payments on government purchase orders were withheld. Still, the committee running the store refused to shift its position and began to prepare a legal and political defence campaign.
In late May 2008, the government began pushing a plan to establish another store in Yuendumu to run the quarantine.
This would have forced residents to shop away from the Social Club store, a serious threat to its viability.
Many residents who travel between Yuendumu and other prescribed communities were already suffering because there was nowhere for them to spend quarantined money in the township.
On June 5 that year, the Social Club committee released a statement explaining they would participate in income management, while stressing their ongoing opposition to the Intervention.
Despite this set back, the resistance shown by the Walpiri at Yuendumu has demonstrated to many in prescribed communities across the NT that the Intervention can be fought.
Mr Nelson, who attends Central Land Council meetings, has said, "people are starting to realise it's not doing any good. They don't need to accept that".
Large delegations from Yuendumu have travelled into Alice Springs to take part in major day of protest action against the Intervention.
The hard battle for basic rights being fought at a community level needs the backing of a strong movement across the country. We must stop the ruthless implementation of these racist laws on Aboriginal people.
By Paddy Gibson

Gurindji want freedom from Intervention
Gurindji freedom day, August 26, is usually a time for celebration. But 2011's activities, on the 45-year anniversary of Freedom Day, condemned the racist NT Intervention that has stripped back many of the rights won through the original walk-off.
Freedom Day commemorates the famous Gurundji walk-off from Wave Hall station in 1966, immortalised in the Paul Kelly song, From Little Things, Big Things Grow.
Aboriginal stockmen and domestic servants, paid in rations by cattle baron Lord Vestey, went on strike to demand equal pay with white workers. This struggle soon spilled over into a fight for land rights that won a historic victory on August 26, 1975 when Gough Whitlam granted land title to Daguragu, famously pouring sand into the hands of strike leader Vincent Lingiari.
The government has seized control of Daguragu under a compulsory five-year lease. Cuts to Community Development Employment Projects (CDEP) and the take-over of the Daguragu Community Government Council by a new mega-Shire, controlled from Katherine 450 kilometres away, have decimated the community.
Everything has been closed down: the arts centre, workshop, brick-making enterprise, bakery, family centre, health clinic, CDEP office, nursery and canteen. Assets such as road grading equipment and buses have been taken.
Philip Chubb, who used to work at the bakery, said that all of his fellow bakers were now unemployed due to lack of funding and the racism of the Shire management. "Most young people are just working for their BasicsCard now" said Philip. The new CDEP scheme forces people to work for the income managed dole payments in the form of the BasicsCard.
Regina, who used to work as a child nutritionist at the Daguragu family centre, is also unemployed. She said that the community was facing a new "stolen generation": "It's hard for the young mothers now. There are no support services for them and if their babies don't put on weight, they'll be taken away by welfare.
"We had five children taken from one family last year. They just flew in on a plane and took those children to Darwin, leaving their parents suffering. They can't be with us here to celebrate Freedom Day, because they are in Darwin fighting to get their children back".
Fighting the government
On Freedom Day 2011, hundreds of Gurindji people and supporters from across the country marched from the Shire office in Kalkaringi down to the Victoria River, in a re-enactment of the original walk-off. The locals carried banners with anti-Intervention slogans such as "Stop the NT Intervention, Gurindji Demand Community Control".
A meeting by the river then heard speakers both recount the struggles of the past and condemn the Intervention. Local leader Gus George said: "This Freedom Day we are talking up strongly and fighting the government. We got no rights to have a say in the community. Government took the community away. We had Aboriginal owned enterprise and all, but they took all the funding away. All missing. That's true for every community in the Territory".
A Central Land Council (CLC) full council meeting was held in the days leading up to Freedom Day. Former Labor Indigenous Affairs Minister Jenny Macklin addressed the meeting, trying to sell her government's Stronger Futures policy that will continue most Intervention measures for a further ten years.
Macklin faced a protest at the Kalkaringi airport from locals and then angry questioning from CLC delegates. After a presentation from the Intervention Rollback Action Group, council delegates voted to endorse Rebuilding from the Ground Up: An Alternative to the NT Intervention, an eleven point program based on Aboriginal community control championed by Stop the Intervention Collective Sydney and the national campaign.
CLC delegates Rob Roy and Ngarla Kunoth-Monks read out the Land Council's own statement to the Freedom Day meeting: "We demand an apology from our governments for the terrible recent policies that encourage assimilation and 'normalisation'—this amounts to cultural genocide".
The national Freedom Day activities created a renewed momentum amongst the Gurindji. Just days after Freedom Day, a wildcat strike by shire workers successfully forced the resignation of a racist manager.
In Sydney, the Stop the Intervention Collective held a 100 strong lunchtime protest outside the office of Labor MP Tanya Plibersek in solidarity.
By Paddy Gibson

Entrenching the NT Intervention: What happened to the resistance?
The NT Intervention (Northern Territory Emergency Response, NTER) was launched by Liberal Prime Minister John Howard just before his final election campaign in 2007. It was an attempt at a final dispossession, to sweep away the "Aboriginal problem" and to bury the idea of Aboriginal self-determination.
Throughout his eleven-year term Howard promoted conservative historians fighting "history wars", denying the frontier massacres and the Stolen Generation.
Howard argued it was the failings of Aboriginal people themselves, and their refusal to assimilate into "mainstream" culture and the market economy, that were to blame for the third world conditions in many communities.
In the NT, where the Commonwealth can exercise direct control, he planned to smash Aboriginal organisations and disperse Aboriginal communities living on their land. He ripped up the Land Rights Act. He announced the abolition of CDEP, an employment program employing 7500 Aboriginal people, which had been just enough to keep remote communities functioning.
Once again, Aboriginal people were to be subject to a protectionist regime controlling their lives and forcing them to assimilate.
When the Intervention first broke, very few in Australia's progressive institutions were willing to openly denounce it. The Labor Party capitulated, voted for it and then expanded it when they took office in 2007.
Howard mercilessly exploited the emotive issue of child abuse to silence, or stifle, any criticism.
A open letter to Minister Mal Brough initiated by the Australian Council of Social Services and signed by 60 organisations on June 26 2007 said, "we welcome your commitment to tackling violence and abuse" while meekly noting "in their present form the proposals miss their mark and are unlikely to be effective". The letter called for more "consultation", but not for an end to the Intervention or for Aboriginal control.
Many Aboriginal communities themselves however, seeing what was at stake openly resisted the NT Intervention from day one. Within a week, Aboriginal women in Alice Springs led a protest rally that burned a copy of the legislation.
Their resistance won support from both Aboriginal and non-Aboriginal activists across Australia. An Alice Springs meeting of a new "National Aboriginal Alliance" which included left wing Aboriginal leaders from the eastern states such as Michael Mansell and Larissa Behrendt slammed the plan as an "invasion".
After Labor's election in November 2007, there was a national call for a rally in Canberra. On February 11 2008, the day before Rudd's apology to the Stolen Generation, more than 2000 people marched from the Aboriginal Tent Embassy to Parliament House protesting the Intervention. This was one of the biggest rallies for Aboriginal rights since the 1988 Bicentenary march.
Fightback
City-based committees such as the Stop the Intervention Collective Sydney saw that the battle over the Intervention had significance far beyond the NT. Across Australia, a serious fight was needed to challenge the Intervention and the impact of racism on the political system. The power of wider social forces outside isolated NT communities would be crucial to actually beat back the Intervention.
In 2008 there were a series of public forums and street demonstrations as Labor conducted a "review" of the Intervention. A convergence in September 2008 featured a meeting of the "Prescribed Area People's Alliance" (PAPA), with more than 100 delegates from Aboriginal communities living under the Intervention issuing a statement for full repeal of the laws. Five hundred people marched through Alice Springs, the biggest protest in Central Australia since the 1970s marches for Land Rights.
A complaint by PAPA regarding the Intervention was upheld by the UN Committee for the Elimination of Racial Discrimination.
But by 2009 however the Intervention was well and truly entrenched. CDEP cuts and the abolition of local government councils had seen thousands of jobs lost and millions of dollars of community assets confiscated.
The "review" had found widespread evidence of discrimination and misery under the Intervention, but Labor did not budge an inch. Government Business Managers sat safely in compounds on formerly Aboriginal land.
More than 15,000 people had been given a new BasicsCard to control their Centrelink payments, and confine spending to particular shops. The groundwork was in place to ensure that the new political order would continue long after the 5-year "sunset clause" attached to NTER legislation.
Central to this was forcing Aboriginal communities to sign "voluntary" 40-year leases that would last beyond the compulsory leases imposed by the NTER. The government first moved against the Alice Springs town camps, represented by the Tangentyere Council.
Tangentyere had successfully resisted a pre-Intervention ultimatum from the Howard's Indigenous Affairs Minister Mal Brough. But Labor's Minister Jenny Macklin was more ruthless, threatening to compulsorily acquire the town camps forever unless Tangentyere signed a 40-year lease.
The anti-Intervention campaign gathered significant institutional support for Tangentyere. A statement condemning the Intervention and Macklin's attack, "Keep Aboriginal Housing in Aboriginal Hands", was endorsed by a wide range of trade unions, welfare and Aboriginal organisations and published in The Australian newspaper in September 2009.
But even at this crucial point, very few of these organisations called their members to protest. Aboriginal Land Councils could have put hundreds on the streets, but preferred to "box clever" and not risk government funding. Reconciliation Groups circulated emails, but made nothing like the effort seen for the "bridge walk" in 2000.
Tangentyere eventually signed over the town camps, "with a gun held to our head" as Executive Director William Tilmouth described it. After Tangentyere fell, other major remote communities followed.
Nonetheless the campaign continued to fight. In 2009, hundreds of people from the community of Ampilatwatja staged a "walk-off". They set up a protest camp on traditional grounds just outside of the NTER leased area. Senior Alyawarr leader Banjo Morton said at the time, "They had us penned there like bullocks in a yard. We needed to step outside of that yard and stand up".
A trade union backed work-brigade traveled to Ampilatwatja, working with the local community to construct a house at the protest site. This was the first house built on Aboriginal land for Aboriginal people since the Intervention in 2007. It also began to rekindle solidarity networks with the unions that had historically played a central role in the fight for Aboriginal rights.
In 2010, Aboriginal workers being paid on the BasicsCard addressed stop-work and other union meetings in Sydney, Melbourne and Canberra.
By 2011, when the Labor government proposed a series of laws called "Stronger Futures", organisations ranging from ACOSS to the Catholic Church condemned them. In the NT communities, people used the Stronger Future "consultation meetings" to express their anger. The Yolngu Nations Assembly released fiery statements that galvanised online support, including a petition of more than 40,000 signatures, "Stand for Freedom", against Stronger Futures
But there was still no sign that the broader forces now clearly opposed the Intervention were prepared to force the open confrontation with the government that was needed. Many NT leaders became demoralised. The last anti-Intervention rally held in the NT was in June 2011, with the Prescribed Area People's Alliance leading a crowd of 300 people through the streets of Darwin.
Conditions getting worse
Since the Intervention there are more than twice as many NT Aboriginal people in prison, more than twice the number of children are being removed, the unemployment rate is worse, third world health conditions such as trachoma and glue ear are rife, self-harm incidents have increased five fold and there has been no let up in the horrific rates of domestic violence.
There are no new houses outside sixteen "hub towns", and even here these have made barely a dint in chronic overcrowding.
Removing publicly funded community development programs has not led to a booming market economy; it has just left people to rot in deeper poverty. There has been no massive increase of Aboriginal jobs in the mining industry, but there has been a slow drift of even more people into overcrowded camps in urban centres where many are caught in cycles of homelessness and alcohol abuse.
The Intervention has increased the prominence of Aboriginal spokespeople willing to embrace punitive policies and corporate "solutions". Noel Pearson, Marcia Langton and Warren Mundine have been joined on the national stage by NT Aboriginal Liberal politicians like the new NT Chief Minister Adam Giles and Bess Price.
In the 2012 NT election, the Country Liberals ran on a platform of restoring community control over local government and ending neglect of small communities and outstations. This cynically tapped the deep anger in NT communities at the process of reform since 2007—but it was enough to sweep them to power on the back of Aboriginal votes.
In power the Country Liberals have meted out even more brutal Intervention-style punishment, putting 100 more police in urban areas, establishing "mandatory rehabilitation", criminalising Aboriginal drinkers and slashing the budget of support services.
The oppression confronting Aboriginal people across Australia has intensified since the NT Intervention.
There is deep anger amongst many grass-roots Aboriginal activists at the hollow symbolism of "constitutional recognition" being pushed by the government as the next great hope in Indigenous affairs.
A dogged fight against the national expansion of income management continues to keep the severe discrimination faced by Aboriginal people in the NT on the agenda.
We can't say which issue will be the focus of the next wave of struggle for Aboriginal rights. But the lessons of the campaign against the NT Intervention will be crucial for that fight. The legitimacy of the "new assimilation" represented by the Intervention is in tatters. But the fight for Aboriginal self-determination needs to find ways to break through.

From invasion to today: A history of assimilation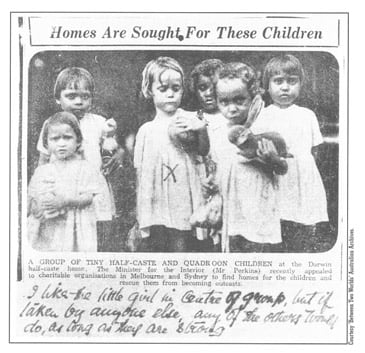 Lucy Honan looks how today's NT Intervention is reviving assimilationist policies
The most prevalent explanation of racism today is that it is just a set of bad ideas, based on prejudice or ignorance of other cultures. Hence we have Harmony Day, and multicultural days, on the basis that such events will educate people and cause racist ideas to disappear.
But a more radical analysis recognises that racism is built into the structure of our society, and that it will require a real struggle to uproot it.
Racism is not something that has existed forever. In emerged historically in 17th century. Prior to this forms of oppression and discrimination existed. But the idea that one set of human beings were inferior to other human beings because of a set of physical characteristics or their race arose with the era of colonial slavery.
In pre-capitalist slave societies, such as Greece, Egypt or Rome slavery was never justified on racist grounds. It was justified as being expedient to a society, part of the spoils of war, or on class grounds, but not race.
Racism developed hand in hand with the development of the capitalist system.
Capitalism was expanding from Europe to America and the New World. The plantation crops produced in the New World were indispensable for industry in Britain. Growing production in Europe required more cotton and sugar produced by slaves and the slave trade.
It became more and more profitable to bring large numbers of slaves from Africa to the New World.
But slavery stood in stark contrast to the new ideology of democracy beginning to spread in Europe, along with capitalism. The bourgeoisie, the new ruling class, promoted the idea that we are all born free and equal.
But the slave was not free. There was no hiding the fact that people were born into slavery and that slaves were physically compelled to work.
The ideology of racism emerged to justify slavery. It held that slaves did not deserve to be free, as they were inferior to white Europeans, or even subhuman.
This led to "scientific" justifications of racism, and the measurement of skull sizes, noses, and so on to "prove" racial inferiority.
Colonising Australia
This ideological racism became a very useful justification for colonialism. The racist ideas that justified slavery could also be used to justify the stealing of indigenous peoples' land.
They were used by the British to justify the dispossession of Aboriginal people as soon as they arrived in Australia.
European invasion drove Aboriginal people off their land, disrupting and destroying their traditions and way of life. Almost from the beginning, Aboriginal people fought back.
But the British colonists carried out a policy of massacre. In Tasmania 5000 Aboriginal people were reduced to 200 in the space of 30 years between 1803 and 1830. In 1834 pastoralists from Tasmania established the first permanent settlement in Victoria. Over the next 15 years there were 68 massacres, and 60 per cent of the Aboriginal population was killed.
This process was replicated across Australia. The massacres continued even into the 20th century. But by then in the south, Aboriginal land had been conquered. But Aboriginal people were still there—still resisting, a constant reminder of who the original owners were and that settlement rested on stolen land.
They became the "Aboriginal Problem".
Assimilation policy
In Victoria the first response of the Colonial Authorities was to set up reserves or missions. The remaining Aboriginal groups would be "given" these reserves, so that they wouldn't fight settlers for land anymore.
They were given land of no immediate value to the settlers and a number or different language groups were concentrated on one reserve.
In one sense these reserves were a concession to the militant, relentless resistance of Aboriginal people—an admission on the part of the settlers that they had not successfully killed off all the Indigenous population.
But the reserves were also a new weapon colonial governments used against them. Their lives were to be controlled by a mission manager, who often banned speaking in Aboriginal languages or practicing traditional culture. There are records of rape, castration and of mission managers treating Indigenous people like cattle, forcing them to work chained together by the neck. Families were separated, children from parents, so-called "half" and "full bloods" were separated, and movement between and outside of reserves was restricted and most often banned.
The reserves were seen as places where the Aboriginal race could die out. But Aboriginal people survived the attempted genocide.
After the Second World War, state and federal governments faced a very different situation, "…continuing with the reserves would," according to Minister of Northern Development, Paul Hasluck in 1951, "result in the very situation that we have always sought to avoid namely the existence of a separate minority group in Australia."
In 1972, when militant activists established an Aboriginal Tent Embassy in front of Parliament House in Canberra, it was seen as a threat to the legitimacy of the Australian state. The Minister for Aboriginal Affairs said, "The government is not prepared to see a separate race within a race develop in Australia, with an embassy from the Aborigines as though they were a foreign power."
With the failure to physically eliminate Indigenous people, the government turned to a policy of assimilation to deal with the Aboriginal problem and eliminate Aboriginal consciousness.
Assimilation was not simply about the destruction of Aboriginal traditions and Aboriginal identity. It represented both continuity and discontinuity with the grotesque policy of biological absorption adopted by some state governments in the 1930s—most infamously stated by AO Neville, West Australian Protector of Aborigines in 1937, "Are we going to have a population of a million blacks in our commonwealth or are we going to merge them into our white community and forget there were ever Aborigines in Australia?"
One of the important ideological functions of assimilation was to attempt to erase the inherent conflict between the Australian capitalist nation and Indigenous people over the land claimed and controlled by the Australian state.
Although later assimilationist policies moved away from the explicit emphasis on race, per se, just as racist was the effort to make Aboriginal people fully assimilate into what the Australian state determined to be "the Australian way of life".
Under this policy some reserves were closed down and Aboriginal people were re-housed within white townships, so that they might assimilate better. No land was to be returned. The hope was that they would lose all sense of being Aboriginal.
But the 1960s and 1970s saw major social movements fight back against the assimilation policy. As early as 1963, the Communist Party of Australia counter-posed the assimilation policy to a policy of self-determination:
"Aborigines and Islanders should be free to live as they choose, as either as members of the general Australian community, or in their own autonomously controlled communities, according to individual choice… For such a policy to become a reality, Aborigines and Islanders should have inalienable possession of their remaining tribal areas, of the lands now set aside as Government or Mission settlements, or of better land where this is unsuitable, ownership of natural and mineral wealth located on their lands and economic aid to enable them to develop rapidly as modern communities."
The union-supported Gurindji walk offs, the Black Power movements of the 1970s, the FCAATSI fight for the 1967 referendum, Charlie Perkins and the Sydney Uni student freedom rides, the 1972 tent embassy in Canberra—this concentrated period of united, anti-racist, Aboriginal rights struggle raised awareness and forced the government into funding some services and making concessions.
In 1975 the Racial Discrimination Act was passed, followed by the Northern Territory Lands Right Act in 1976.
Successive governments paid lip service to a policy they called "self-determination"—but they never allowed Aboriginal people real control. Successive Aboriginal representative bodies like the National Aboriginal Consultative Committee, the National Aboriginal Conference, and the Aboriginal Development Commission were abolished when they began to push beyond the bureaucratic straightjacket imposed by government.
By the 1980s, however, the movement was in decline and government promises for wider land rights laws were being broken.
In 1992, the High Court recognised that small numbers of Indigenous people retained native title over the land. But by 2004, the Howard Liberal government was extinguishing even the small native title rights the decision granted.
The Intervention
The Northern Territory Intervention is a return a full-blown assimilationist policy. Under the legislation and the control of Government Business Managers, the government has ruthlessly wiped out any vestige of Aboriginal community control. Assets built up over decades have been removed from communities. Community child care and other programs have been scrapped.
Communities are being blackmailed into signing 40 and 90 year leases over their land in return for basic rights like health, education and housing. Teaching in Aboriginal language is being restricted despite its recognised importance for identity and overall education for those who have English as a second language.
Over the years the Australian settler state has tried to deal with what it regards as the "Aboriginal problem" in a variety of ways. But the central thrust of them all was to fit Aboriginal people into what they called the Australian "way of life". The Intervention is the latest example.
In 1961 the Native Welfare Conference defined assimilation as: "All Aborigines and part-Aborigines are expected to attain the same manner of living as other Australians and to live as members of a single Australian community enjoying the same rights and privileges, accepting the same responsibilities, observing the same customs and influenced by the same beliefs, hopes and loyalties as other Australians."
Four years later that was changed to, "The policy of Assimilation seeks that all persons of Aboriginal descent will choose to attain a similar manner and standard of living to that of other Australians and live as members of a single Australian community."
But if Aboriginal people don't choose to assimilate and, worse, if they consciously resist as they have, then the assimilation will have to be forced.
Their resistance to this is a constant affirmation that the Australian state was founded on racism, violence and dispossession. And it is a constant challenge to the ideological underpinnings of Australian nationalism and to the white blindfold view of Australian history.
Before the 1940s, Aboriginal people could not become citizens, but after the Second World War they could be counted as citizens if they applied for a certificate. By having a certificate, however, they had to give up all ties with the Indigenous community, including their families. In New South Wales it was known as an "exemption" certificate, it exempted someone from being a person of Aboriginal descent.
The overt racism of the 1940s and 1950s may have been replaced by a more insidious attempt to entrench dispossession, disperse the homelands, stifle language, eradicate townships, and deny rights. But the parallels are obvious and the racism just as pernicious.
20 years since Mabo: Why Native Title hasn't delivered
The year 2012 marked the 20-year anniversary of the historic Mabo High Court judgement. Paddy Gibson looks at why it failed to reduce Aboriginal poverty.
Locked up and killed for being black: Racism, deaths in custody and the NT Intervention
Following the recent death in custody in Alice Springs, Paddy Gibson explains how the situation has actually gotten worse since the 1991 Royal Commission
Hawke, Keating and Aboriginal rights: Labor's 'sorry' history
Labor's approach to Indigenous Affairs today follows that of Hawke and Keating, argues Jean Parker
The history of the Communist Party's support for Aboriginal struggles
The role the early Communist Party of Australia played in fighting for Aboriginal rights provides clear examples of the way that a joint "black and white" challenge to the oppression of Aboriginal people can build the radicalism, consciousness and strength of the working class movement in Australia, argues Jean Parker.
The Black Moratorium—how unions walked out for Aboriginal rights
In 1972 unionists joined what were amongst the most successful protests for Aboriginal rights ever in this country. Paddy Gibson explains how the unity between Aboriginal activists and organised workers was central to their success.