Students and staff protested against plans for massive jobs cuts at the University of Sydney on Wednesday—only to again face a draconian and hypocritical police operation to disrupt and disperse them.
Activists organised 18 decentralised gatherings of less than 19 people, at separate locations across the university campus, to ensure that each gathering was in line with the NSW COVID-19 public health laws that limit outdoor gatherings to just 20 people. In total around 200 students and staff joined protests on the day.
But over 100 police, including several horses and riot vehicles, swarmed onto the campus—ludicrously claiming that because each separate group was protesting job cuts, this constituted a common purpose and therefore was a gathering exceeding 20 people.
Nine protesters received fines, totalling almost $10,000. And in a major escalation of police attacks on the right to protest, Solidarity member Adam Adelpour was arrested and charged—the first time someone has been charged under the COVID-19 restrictions for protesting. He now faces the prospect of an $11,000 fine or six months' jail.
The latest police attack comes only two weeks since scores of police attacked a similar student protest at the university, on 28 August, with ten students and staff members each issued a $1000 fine under COVID-19 health laws.
Plans for job cuts of up to 30 per cent across the university emerged several weeks ago. Vice-Chancellor Michael Spence has claimed COVID-19 has led to a drastic loss of revenue. Yet in a financial update this week he revealed that the university is now expecting a budget surplus this year, due to increased domestic enrolments.
Now, the university is trying to justify plans for cuts by citing projections for revenue losses over the next few years. But it is clear that many of the restructures and sackings that it wants to push through have been planned for some time.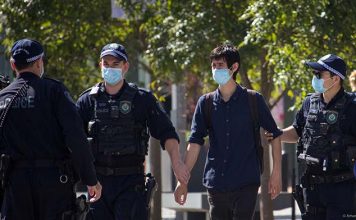 Sydney University has become a flashpoint for the right to protest in recent weeks. Adam told Solidarity, "The police crackdown was absolutely ridiculous, an escalation of their response and of the attack on the right to protest, both in their willingness to aggressively disperse groups that are less than 20 and in terms of charging me for allegedly breaching the COVID-19 health orders.
"There were less than 20 in my group, and everyone except for me and one other student had dispersed. I saw a number of police surrounding one female student with a homemade sign, who was obviously distressed about what was happening. They surrounded her and started grabbing her. I was watching to make sure she was ok, and then the police came and arrested me.
"In that process another officer came over and said something like 'charge that one'. They targeted me because they knew who I was."
Adam had been fined at the previous university protest on 28 August, and was identified by police as an organiser.
"I was in custody at the Newtown police station from around 1.30pm that day until 7am the next morning.
"When I got to the police station, they made it clear they wanted to treat me harshly around my bail conditions, telling me that I wasn't going to be able to go anywhere, leave my house, or protest again. They said part of my bail conditions would include a curfew.
"The police also obstructed me from speaking to lawyers. At one point I heard them telling a lawyer I was asleep to prevent me talking to them, after I had recently asked to speak to the lawyer from my cell."
"I refused to sign the ridiculous bail conditions. The police told me the magistrate would give me even harsher bail conditions in the morning. The final bail conditions were minimal, simply that I have to reside at my address and not reoffend. That was a result of pressure from lawyers and refusing to sign.
However, despite the repression, the action was a step forward for the campaign.
"They dispersed the previous rally in order to intimidate people and discourage them from protesting," Adam said, "That backfired. These actions were bigger, had a wider representation of staff and students and showed that the intimidation had failed. There were students and staff in lab-coats from medical science, department groups from philosophy to Government and International Relations, to history, linguistics and many others."
"The growth of the protest actions since the last one showed the cuts can be stopped. To do that it will take further action, but the attack by police will only attract more interest in the campaign.
"There's been too many messages to count expressing solidarity after my arrest, which again shows how much work the campaign has done to put the issues of the cuts and standing up to police on the map. Student and staff action can counter the intimidation, along with a collective willingness to confront the attacks on students, staff, workers, and the right to protest."
By Cooper Forsyth and James Supple