After almost two weeks outside the gates, members of the United Workers Union at Woolies' Wyong distribution centre in NSW have won big pay rises and an increase in permanent jobs. But their demands on equal pay rates with other Woolies' workers and picking rates are still to be won.
Their stand shows that, even as many workers face pay cuts due to the COVID-19 crisis, strike action can win. "We hope what we did inspires other workers to stand up", Kayla, one of the workers, told Solidarity.
Most of the 550 workers will receive an 11.2 per cent pay rise over three years, while around 200 of them classified as "level 2" with six years' service will get 17.4 per cent over the period.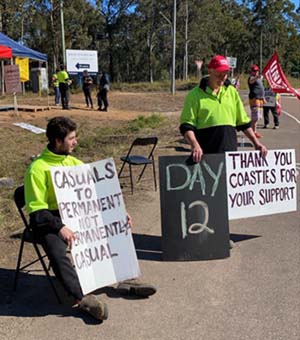 There is also a big improvement on casualisation, with 80 per cent of jobs guaranteed to be permanent positions. This is an important victory, given that during some peak periods the centre has employed close to 50 per cent casual workers.
Many workers have been kept on casual contracts for years and subjected to humiliating performance checks to justify refusing them permanent contracts. Shift times have also been changed without notice.
After two 24 hour strikes, Woolworths imposed an indefinite lockout on workers lasting a week. They returned to work on 6 August after forcing a much-improved offer.
Demands
The workers went into bargaining demanding equal pay with other Woolies' centres and a reduction in work speeds. Workers at the centre were paid 16 per cent less than distribution workers in Sydney and elsewhere in NSW.
The pay increases won from Woolworths are significant, but still fall short of the full demand. And their demand for an end to pick rates also hasn't been met. Workers at the centre often do 10-12 hour shifts, lifting tens of thousands of tons of boxes. Management monitoring and pressure over work speed is deeply resented.
Kayla, one of the picketers during the dispute, told Solidarity that following the return to work, there were, "a lot of mixed feelings, but I'd say the majority thought it was a win."

"Everyone thinks the conditions we got are wins, the permanent to casual ratio and the pay level 2 to 3."
But an important reckoning still remains to be had with Woolies.
Workers narrowly rejected the offer in a vote on 6 August, held by secret ballot rather than a show of hands.
But officials and delegates successfully argued that 200 absent workers who didn't cast votes should be counted as endorsing a return to work.
The steamrolling of the majority vote was questioned by some members.
Another key demand that hasn't been met is to limit the EBA to a two year agreement. This would ensure bargaining at the Minchinbury and Wyong distribution centres line up when the agreements expire, to prevent one centre being used to undercut the other's strike.
Workers are set to vote this week on whether to accept the agreement. If Wyong workers took a stand to demand a two-year deal, it would mean workers at both Minchinbury and Wyong could strike together next time to win the common conditions for all Woolies workers.
During the dispute Woolies took full advantage of the fact it was able to shift orders from Wyong to its other distribution centres, including the Minchinibury centre in Sydney, to keep its stores stocked.

Wyong workers protested at Woolies' Sydney HQ as well as outside the Minchinbury centre on 3 August.
Crippling Woolies' stores in the Central Coast area requires solidarity action at the other distribution centres to refuse to process orders re-directed from Wyong during strike action.
This would have forced the bosses to concede more, faster.
As the Morrison government and bosses try to make workers pay for the COVID-19 crisis, the Wyong workers' action and determination has been an example for workers everywhere.
By Adam Adelpour