A meeting on the politics of lockdown on Thursday night heard a series of first hand accounts from residents facing authoritarian police controls used as part of Sydney's COVID restrictions.
A community housing complex in Camperdown has become the latest target of heavy-handed policing as part of the lockdown.
The 104 homes in the Common Ground Towers were put into enforced isolation this week after four cases of COVID were confirmed among residents.
Jake, one of the residents, told the meeting, "We've been dealing with over policing. We've had essentially everything that's coming into the building searched by police. In a lot of instances, we haven't been told why it's been searched.
"There's a lot of residents who have services for heavy drug use, some quite serious mental health issues, developmental disorders. The normal support staff with Mission Australia, here on a daily basis, working with us for a long, long time, have all been kicked out of the building, and replaced by either nurses from NSW Health or NSW Police.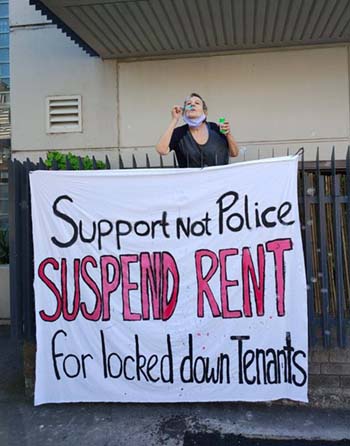 "We had community members drop off a hamper, with some fresh food, some alcohol, some cigarettes. All of the alcohol disappeared, and there were supposedly two packets of cigarettes in every box, but we only got one of them. We've since found out that they have restricted alcohol consumption daily.
"There's very little information as to why it's happening. We've been speaking with Mission Australia, and asking since day one for liaison with either NSW Police, or NSW Health."
Those living nearby showed their solidarity by walking and exercising past the complex on Thursday and Saturday with signs in support or wearing purple.
"We're doing it tough. We're day seven, we've got another another seven days to go as far as we understand."
Residents of western Sydney also shared their experiences of living under the hard lockdown restrictions in the 12 targeted local government areas.
Rana Hassan, who lives in South Granville, told the meeting, "It's got to a point now where we are more concerned with over-policing than we are with our own personal health.
"My friend Selima who lives in Auburn, her father got fined $5000 for being out of his LGA on his way home from work, even though it's on NSW Health's list.
"My brother's friend Abdul got fined and arrested for being outside of his house without a mask when he was taking his bins in. When people from my community hear stories like this, they are becoming really frustrated and they don't believe that the police here are trying to help us.
"Lockdown for us is becoming more of a class issue than a health issue. The other day when I was up in the Northern Beaches, on compassionate grounds, no one was wearing a mask, there were less police. When I went out of my suburb, everyone was walking around like normal.
"Lockdown really means rich people hiding out and workers doing their bidding and making sure that everything still works.
"You can't sleep some nights because there are always helicopters hovering over our house at 10pm. There's always cops as soon as it's 9pm, roaming the streets for about two hours. There's cops in our parks asking people for ID, asking people how long they've been in the park exercising.
"In the beginning of lockdown, they were at Woolworths and Kmart checking bags to see if what we were buying was essential. I got checked for my ID, making sure that I was the only one from my household going in.
"A lot of people here in Granville were always going to think that we're targeted on the basis of race. Police come in with all their stereotypes and prejudices. So far, there has been nearly 20,000 people stopped, nearly 3000 people fined since July. That is completely absurd I think."
Kwabi, who lives in Pendle Hill, explained that, "We have like a large Indian and Sri Lankan demographic, and I'm part of a small African community. It's mostly black and brown people around here, and I guess that makes us an easy target for police.
"It's pretty common, in the West, to grow up with a constant police presence, seeing locals getting arrested, getting stopped. These new restrictions just instilled immediate fear in me, that if I was to be on the receiving end of one of these routine stops, I'm going to receive a hefty fine, just depending on the morals of the cop.
"It just became really obvious how the government tends to enforce punitive measures when dealing with problems. The surveillance is a big issue, the helicopters are really constant here, every two hours we get one come past and hover over the houses. There's a lot of paranoia here because of that.
"The police are wherever you go. I don't want to leave the house to get my shopping when Woolies is being guarded by military personnel. The curfew is really arbitrary and it makes you feel we're in the prison yard. I saw mounted police in a park in my area recently, and I've just never seen a horse in the area. This police presence is a lot more visible. There's a lot of them and it's scary.
"I feel like a fugitive for leaving my home. Obviously, there is no way to protest what's going on, because you're just slapped with a fine.
"People are losing not only their income because of this pandemic, but whatever savings they have. And that's just stoking a lot of anti-government sentiment that's already been brewing. And I quickly see that transforming into anti-vaccine sentiment. The trust that we could put in government bodies and medical bodies, we just don't have anymore."
Instead of punitive policing, there should have been a surge in funding for health workers and community workers, a rollout of widespread testing and vaccination, alongside adequate financial assistance to allow people to survive while staying safe from the virus. A police and military occupation of western Sydney is no way to deal with the health crisis—and it has to end now.