On 26 July, thousands of contract doctors across Malaysia walked off the job to demand permanent jobs and pathways to specialisation.
The wildcat strike was dubbed #HartalDoktorKontrak, hartal being an Indian word which evokes the anti-colonial general strikes of the 1940s.
There has not been a doctors' strike since 1982, when junior doctors formally organised for the first time under the Malaysian Medical Association (MMA) and won better pay and conditions including paid leave.
The contract system, introduced in 2016, was ostensibly a stop-gap measure to address the "oversupply" of medical graduates, with the promise that 60-70 per cent of contract doctors would be converted to permanent staff after five years of compulsory service in the public sector. Yet in the past five years, only 789 doctors (around 3 per cent) have ever been offered permanency. This situation is itself a result of decades of privatisation and healthcare cuts.
Dr Jeyakumar Devaraj of the Socialist Party of Malaysia (PSM) traces the present situation back to the liberalisation of private medical colleges in the early 2000s. The massive intake quotas and student loan offerings (which ultimately benefited college bosses and government cronies) were not matched by increases in spots for medical internships and further training in specialist fields.
Privatisation of healthcare in general has concentrated the most skilled doctors and best equipment in the cities, behind expensive fees. The public hospital system only has about 10 per cent of the country's experienced specialists but handles 75 per cent of admissions.
Contract doctors also face barriers applying for master's programs. A recent offer from the government now means they're technically eligible and those contract doctors who get study offers will have their job contract extended for four years plus their study will be fully funded.
However, they need to get this study offer during their first two-year contract following their medical internship, which the hartal movement says hardly ever happens.
Consequently, a whole generation of non-specialised doctors is currently being produced who are forced to find work in the private sector or overseas.
The hartal is about more than just working conditions. Striking doctors have explicitly argued that Malaysia's poor and rural communities are exclusively dependent on public healthcare and that any attack on jobs in these places is an attack on healthcare as a human right.
How was the strike organised?
The hartal was significant because of its bottom-up organising. Malaysia prohibits public employees, including doctors, from joining unions. Doctors are represented by the MMA, which refused to throw its support behind the strike and was only willing to negotiate for its demands and organise a photo action, #CodeBlackMY, on 12 July.
Instead, doctors organised through Facebook groups originally meant for airing grievances. When the government responded to an MMA open letter by defending the use of contract hiring, calls to strike began to spread. Doctors selected representatives to reach out to media, activists and opposition politicians. Strike committees were elected at participating hospitals and a legal defence fund was prepared.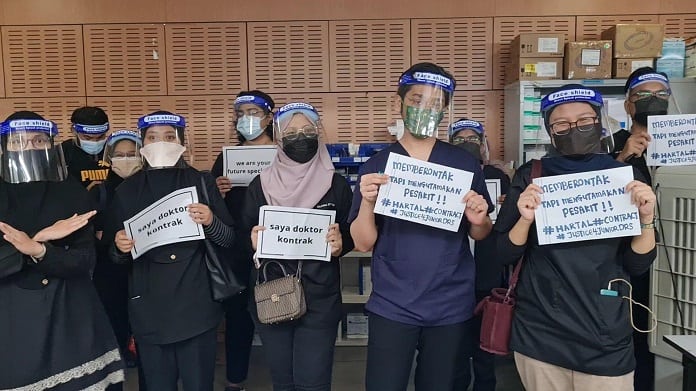 Faced with mounting strike pressure, the government first offered a one-year, then a two-year contract extension with fully funded specialisation training. The hartal movement rightfully rejected this offer, deriding it as nonsensical, and a "sugarcoating statement to shut us up".
The contracts offered are not long enough for doctors to even apply for, and be accepted into, master's programs. Tacking on one contract after another does not address their demand for job security.
The strike
Malaysia is currently fighting a catastrophic third wave of COVID-19. Several COVID hospitals are running on empty; doctors report that they have repeatedly breached 100 per cent capacity and are forced to share oxygen between 5-6 patients.
With more than 17,000 COVID-19 cases recorded the day before the strike, doctors knew they had to proceed carefully to avoid accusations of endangering patients.
Many permanent doctors showed solidarity with their junior counterparts by covering their shifts; further, each walkout lasted 5-30 minutes to pre-empt any backlash.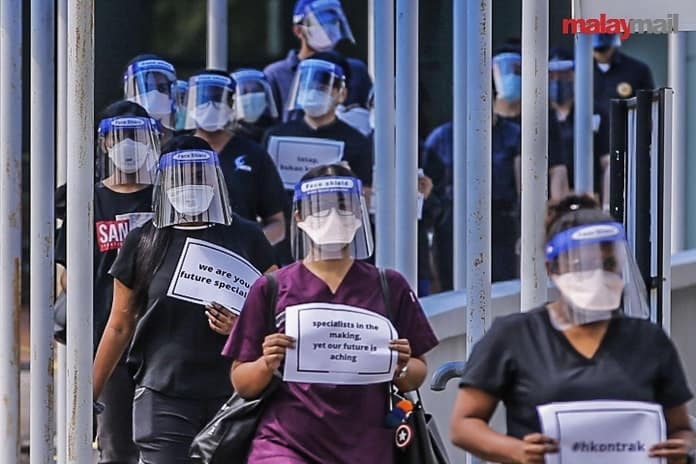 But the hartal still faced threats—from hospital bosses, who threatened to dismiss any doctors who "compromised their image", the police, who opened investigations at Kuala Lumpur Hospital immediately after the strike, and the Ministry of Health, who patronisingly scolded doctors for betraying their Hippocratic Oath.
Striking doctors at one quarantine centre were also forced to call off their protest when they were threatened with arrest.
How will the doctors win?
The walkout was brave and defiant but the doctors know a one-day strike is not enough to win their demands. To maintain the pressure, the strike needs to spread to all 23,000 contract doctors and it needs to be sustained until the government gives in.
There is great potential for the doctors to link up their struggle with nurses, cleaning staff, pharmacists and other healthcare workers who have similar grievances.
The hartal itself comes amid the backdrop of widespread discontent at Malaysia's COVID response. Prime Minister Mahiaddin Yassin declared a State of Emergency in January but this was transparently a move to cling to power.
The right-wing coalition he cobbled together during his February 2020 coup has been fragmenting. The Emergency failed to stem the third wave because the government continued to allow large factories to operate with lax safety standards and threatened migrant workers with deportation, discouraging them from getting vaccinated.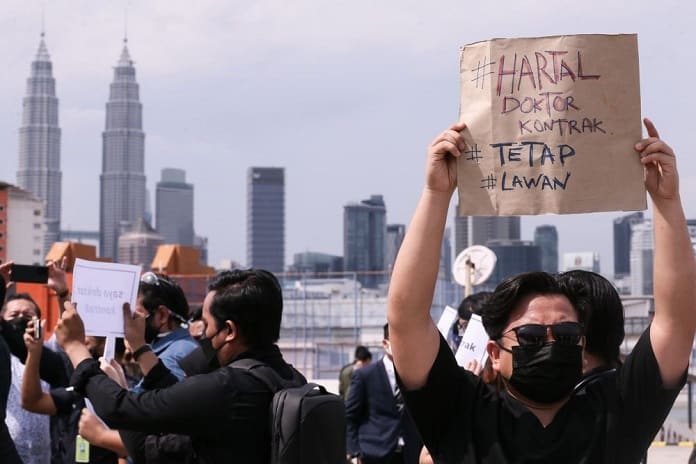 Public pressure eventually forced the King to call a parliamentary session, on the same day as the hartal. In that session, the government declared that it had retroactively lifted some of its Emergency ordinances.
Meanwhile, a coalition of activist groups under the banner of the Sekretariat Solidariti Rakyat (SSR; Secretariat of People's Solidarity) has called on Malaysians to take to #Lawan (resist), and demand that Mahiaddin step down.
SSR has successfully held flash mobs and car convoys despite heavy police intimidation. These and other larger actions such as strikes will be crucial to coalescing the discontent against Mahiaddin into a coherent movement that can smash the Emergency and Mahiaddin's government on a pro-worker basis.
With the Emergency looking increasingly fragile, this is a golden opportunity for unions and civil society to reassert themselves following last year's crackdowns.
By Aisyah Huzani and Jason Wong